In this article, we are going to review a very amazing mouse which is Lenovo Go Wireless Vertical Mouse Covering computer mouse is mainly uninteresting, except for certain bright gamer-styled ones that continuously push the limits for performance and capabilities. But what about people who want an excellent productivity mouse that's cheap and easy to use for eight hours a day?
We initially tested Lenovos Go Wireless Vertical Mouse during a product briefing a few months ago and fell in love with it. Vertical mouse are more ergonomic because they fit the natural palm grip of 45 degrees. Plus, it's made of cork.
After using the Go Wireless Vertical Mouse for a few weeks, We can confidently say that it is our new favorite mouse. While it usually is $50, it is now on sale for $34, making it a risk-free buy for most individuals. Here's why we enjoy it so much and what might be better.
Although human hands were not meant to lie flat on tables for eight hours a day, this is how mice used to be created in the past. The Lenovo Go Wireless Vertical Mouse goes above and beyond expectations by providing users with an experience that imitates the natural form of a handshake.
It is accomplished through a palm grip angled at 45 degrees and revised finger positioning, contributing to improved posture and increased productivity.
The Lenovo Go Wireless Vertical Mouse was designed with the latest ergonomic research to improve your comfort and efficiency with its padded palm rest, vertical grip and curve, and natural palm and finger alignment.
The Lenovo Go Wireless Vertical Mouse's vertical shape and usage of recycled cork provide maximum comfort for your palm, thumb, and fingers. The coating that makes it resistant to liquids and ultraviolet light also makes it simple to clean.
You will get all of the features of a classic premium mouse, such as programmable side buttons and a DPI adjustment range of up to three levels, in addition to the advantages conferred by an innovative ergonomic design.
For further information, visit this link:
Pros Of Lenovo Go Wireless Vertical Mouse
Have Ergonomic Structure:
Like everything ergonomic, the Lenovo Go Wireless Vertical Mouse has an odd appearance. But don't worry, you'll grow accustomed to it in minutes, and it's not as drastic as switching to an ergonomic keyboard. In addition, Lenovo has a matching $100 Go Wireless Split Keyboard.
Very Lightweight:
The mouse alone is lightweight at 96 grams. Still, when combined with the included AA battery, its total mass increases to 118 grams. While you can't directly recharge this mouse, Lenovo Go Wireless Vertical Mouse promises 12 months of battery life from the AA cell, so it's a moot concern for most users.
Great Performance:
The mouse has three settings for dots per inch, including 2400, 1600, and 800 DPI, which are all immediately adjustable with the top button. 1800 DPI worked well for the 38-inch 3840×1600 monitor. The scroll wheel has incredibly soft detents while scrolling and is low-friction but not free-rolling. It's lovely.
Terrific Software:
While the Lenovo Go Central program isn't necessary, it's fantastic for dialing those DPI parameters to your taste and acting as defaults. You may also reprogram the buttons, but since there are only three, most people will leave them in their original settings.
The software also handles mouse firmware upgrades, and there was one recently to aid increase speed. Hence, it's a good idea to install it anyhow.
Easy To Use:
To get to the purpose of this mouse and review: It's just straightforward to use. This mouse adapts to your grasp without placing strain on your wrist, allowing you to use it all day. It feels incredible to us. Both the forward and back buttons on the mouse's sides are conveniently located, and the mouse's clicks are noticeable but not too so.
More Features:
Lenovo Go Wireless Vertical Mouse earns marks for the detachable cover that stores the single AA battery. Connectivity is provided through a Type-A 2.4GHz dongle with no backup Bluetooth.
While dongles may be challenging to handle, Lenovo allows you to stow this one in the mouse (under the lid) for travel, which is quite convenient. Because it is a unified dongle, you need one for your PC if you have additional Lenovo Go accessories.
Cons Of Lenovo Go Wireless Vertical Mouse
Sensitive Click Button:
The faint clicking of the scroll wheel is our only main complaint. When you depress the scroll wheel, it, like many mouse, enters an auto-scrolling mode, which is excellent for reading important papers or web pages.
However, the click on this mouse is a little too soft for us, resulting in occasional unintentional clicks while we're moving swiftly. And since you can't reprogram, or turn off, that function, you're stuck with it. Of course, you may become accustomed to it, but be cautious.
The top programmable button, by default, adjusts DPI settings and is only suited for infrequent clicks if reprogrammed for another purpose. It's too recessed and far back to be utilized as a regular app.
Lack Of Bluetooth:
If you reject dongles, the lack of Bluetooth is also disappointing. The 2.4GHz dongle worked well, and although most PC users have an additional Type-A connector, you're obliged to use it here. Of course, the absence of Bluetooth undoubtedly contributed to the cheap pricing.
Not For Left-Handed People:
And, as any left-handed person would see, this mouse offers nothing to assist folks in their situation. While demand may explain this (90% of the market is right-handed), it would be good to see something for the remaining 10% of humanity.
Cork Doesn't Suit Everyone:
Then there's the UV-treated cork. It isn't just any old cork; Lenovo had it processed so that it would be "resistant to common liquids and gels." Indeed, after a few months, mine appears brand new, although We can understand why others may be skeptical.
What Are The Competitive Alternatives To Lenovo Go Wireless Vertical Mouse?

There isn't many ergonomic and vertical mouse on the market, but a handful stands out as direct competitors to Lenovo. The Logitech MX Vertical is the most popular and, at $90, would be considered an upgrade.
It features a 2.4GHz dongle and Bluetooth, and the scroll wheel click may be programmed. It's also rechargeable, with a DPI maximum of up to 4,000 (vs. Lenovo's 2,400). It's also Logitech, possibly the best mouse manufacturer in the world.
Anker sells a $28 2.4G Wireless Vertical Ergonomic Optical Mouse that looks fantastic and has positive Amazon ratings. It, too, utilizes batteries (two AAA rather than one AA), is just 2.4GHz and has a lower 1,600 DPI maximum.
Kensington also sells the $25 Ergonomic Vertical Wireless Mouse (K75575WW), which has a comparable 800 to 2,400 DPI, one AA battery, no Bluetooth (just 2.4GHz), and a similar overall appearance. It also has a lot of great feedback.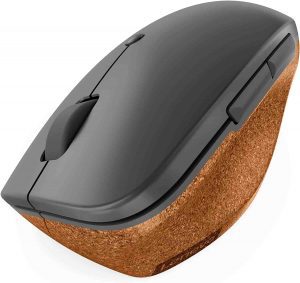 Only the Lenovo website now offers the Go Wireless Vertical Mouse directly. If it becomes widespread, Lenovo will most likely provide it via Amazon. If it occurs, we will update this review.
The price is $49.99. However, Lenovo often offers promotions, and the Go Wireless Vertical Mouse is currently available for $34 at the time of writing.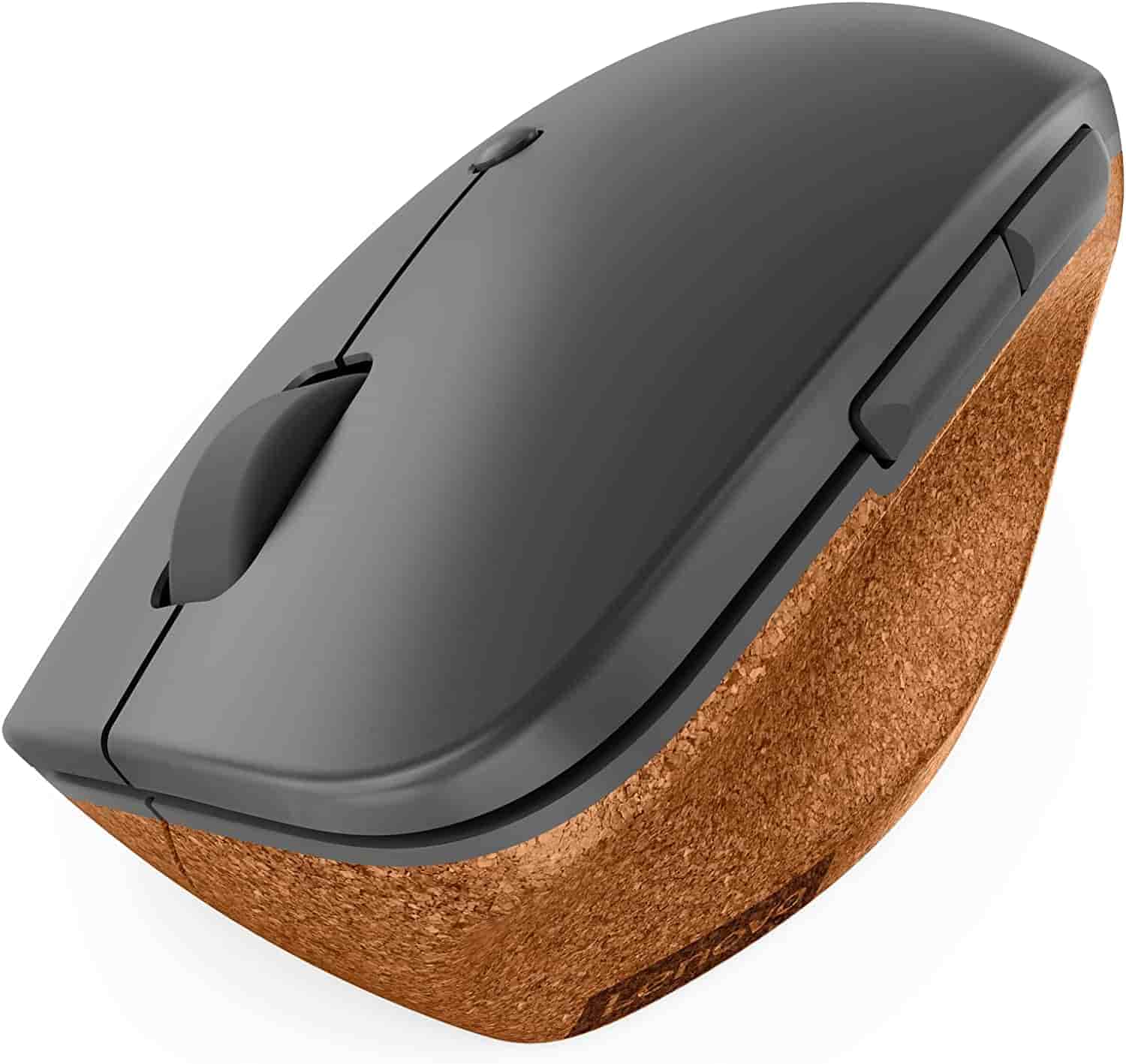 Natural handshake position to reduce forearm and wrist strain
Comfort grip with treated cork material
True Ergonomic vertical design, 45-degree vertical grip
2.4 GHz wireless dongle connection
6 button mouse, 2 programmable side buttons
Conclusion
Should you buy Lenovo Go Wireless Vertical Mouse? If you have wrist pain from using a desktop mouse all day and want acceptable desktop performance from a mouse, this is the mouse for you.
We enjoy the Lenovo Go Wireless Vertical Mouse overall. It looks great, is comfy on our wrists all day, and has all the buttons We need. The cork is a touch gimmicky, but it gives the mouse a warm, tactile feel that makes it enjoyable to use. It also looks distinct, bringing a touch of nature to technology and a great aesthetic. Its pricing is hard to beat, plus it comes with a matching split keyboard, which is unique. So, pick up the Lenovo Go Wireless Vertical Mouse if you're seeking something special and beneficial to your wrist health.
Also Read: Top 5 Best Logitech Wireless Gaming Mouse – 2022
Latest posts by Akash Tiwari
(see all)